Small Mouth Bass Trips
Flathead Catfish Trips
PANFISH SPECIALS
1 or 2 anglers per boat ($50 for additional angler)
Up to 2 anglers per Boat
Additional Anglers $50 Each 4 Max
Parent and up to 2 Children
1/2 Day $300.00 4-5 Hrs
1/2 Day $400.00 5 Hours
4 hours 125.00
Full Day $450.00 8+ Hours
Full Day $500.00 8 Hrs
Includes use of Tackle
Includes live bait and equipment
Call for Special Requests


TIPPING YOUR GUIDE.

***I have never mentioned this on my site before, but
have been asked many times about the normal tip.***

My answer is always the same:

"A tip should not be expected but instead EARNED!!!" If you feel that your guide worked Extra hard (Kind of my Motto) and deserves a larger tip than that is up to you.

If you feel inclined to send your guide on a paid trip to Alaska to fish for Halibut or Loisianna for Redfish, that is great as well. Just Kidding about that part!!



******PONTOON BOAT TRIPS************

CHILDREN ARE ALWAYS WELCOME. CHILDREN UNDER 12 ARE WELCOME TO FISH AT NO ADDITIONAL COST

We have become the Susquehanna Rivers Premier Guide Service for a Reason. We want YOU to enjoy your day. Please Contact us with your questions or concerns and I will adress them personally.
DEPOSITS: To reserve your date a $50.00 deposit is required.

CANCELLATIONS: If we need to reschedule for severe weather or some other reason we will be in contact for a make up date.

Your Susquehanna River Fishing Home for the Day.


Your Guided trip on the Susquehanna RIver will be in Comfort. My boat is 19' Custom built Jet Boat designed with my customer in mind. I promise you will not fish from a more comfortable jet boat on the Susquehanna River.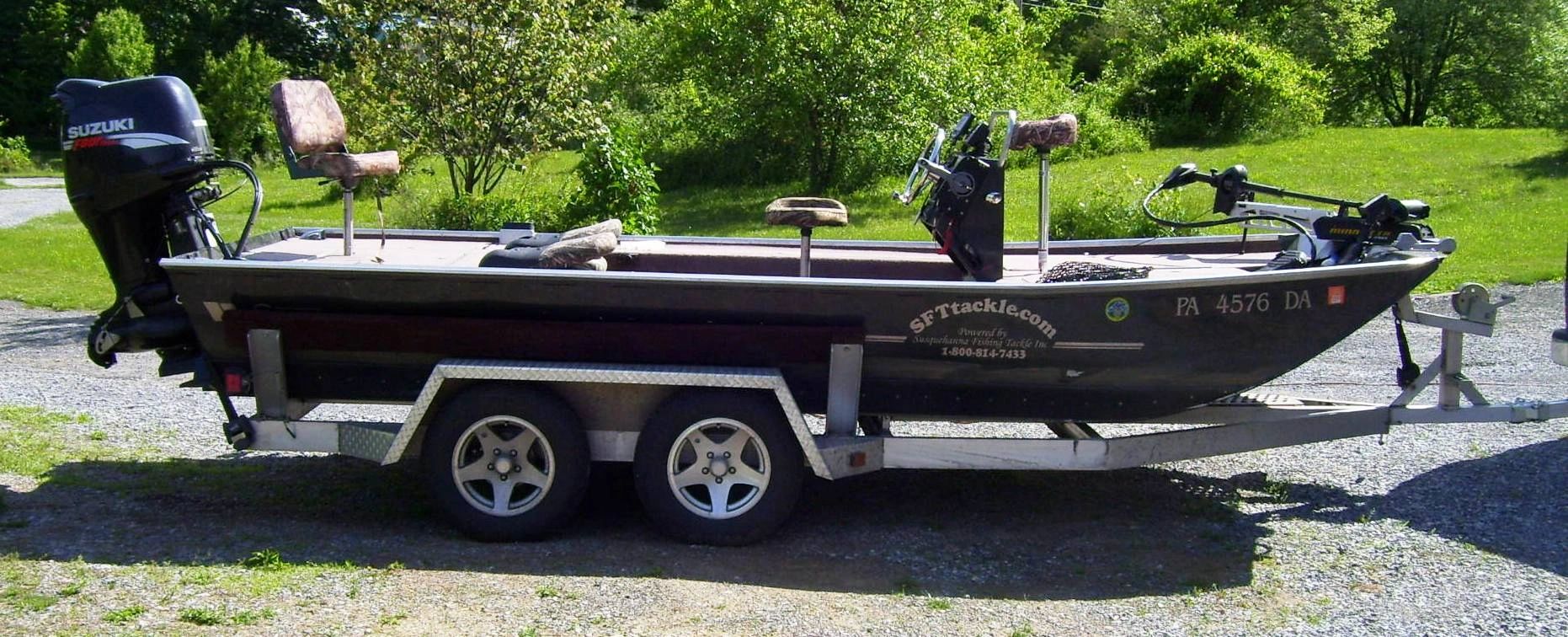 What to Bring on your Smallmouth Bass or Flathead Catfish Fishing Trip:
Our Goal is to make your guided fishing trip a truly special day. Here a few things that will make your Susquehanna River Fishing Trip a little more memorable.
Rain Gear/ Clothing - I always request that the weather is perfect and the fish bite, sometimes my prayers aren't answered and we get wet. For this reason you should always bring the proper clothing and rain gear. You may not need it but is always better to have it and not wear it, than to keep your closet dry and warm at home.
Fishing License - A current PA fishing License is needed. A License can be obtained at Susquehanna Fishing Tackle in Lancaster PA, or online at: https://www1.pa.wildlifelicense.com/start.php
Sunglasses - A good pair of polarized sunglasses is more than a fashion statement. It will help you to see the structure we are fishing and will keep those nasty bugs of your eyes. While many glasses are available I tend to lean toward the green or amber lenses.
Food and Drinks - We will have plenty of water on board and always have a few snacks. It is your responsibility to bring your lunch and drinks that you prefer. If you bring a rare piece or prime rib for lunch, you better bring some extra for the guide.
Camera or Video Camera - We are always happy to help you take pictures of your trip. I always try to take pictures of the trip but many times get too involved in the day. A good digital camera is preferred so we can be sure that we have captured the moment and not a picture of the motor.
An Open Mind - This can be one of the most important things for you to bring. The patterns on the river are constantly changing and so are the techniques required to catch fish. Many times we will use several different patterns and your success depends upon your ability to learn those patterns

PLEASE CALL WITH ANY QUESTIONS (717) 324 5769


PURCHASE AND PRINT YOUR PA FISHING LICENSE BELOW:

https://www1.pa.wildlifelicense.com/start.php